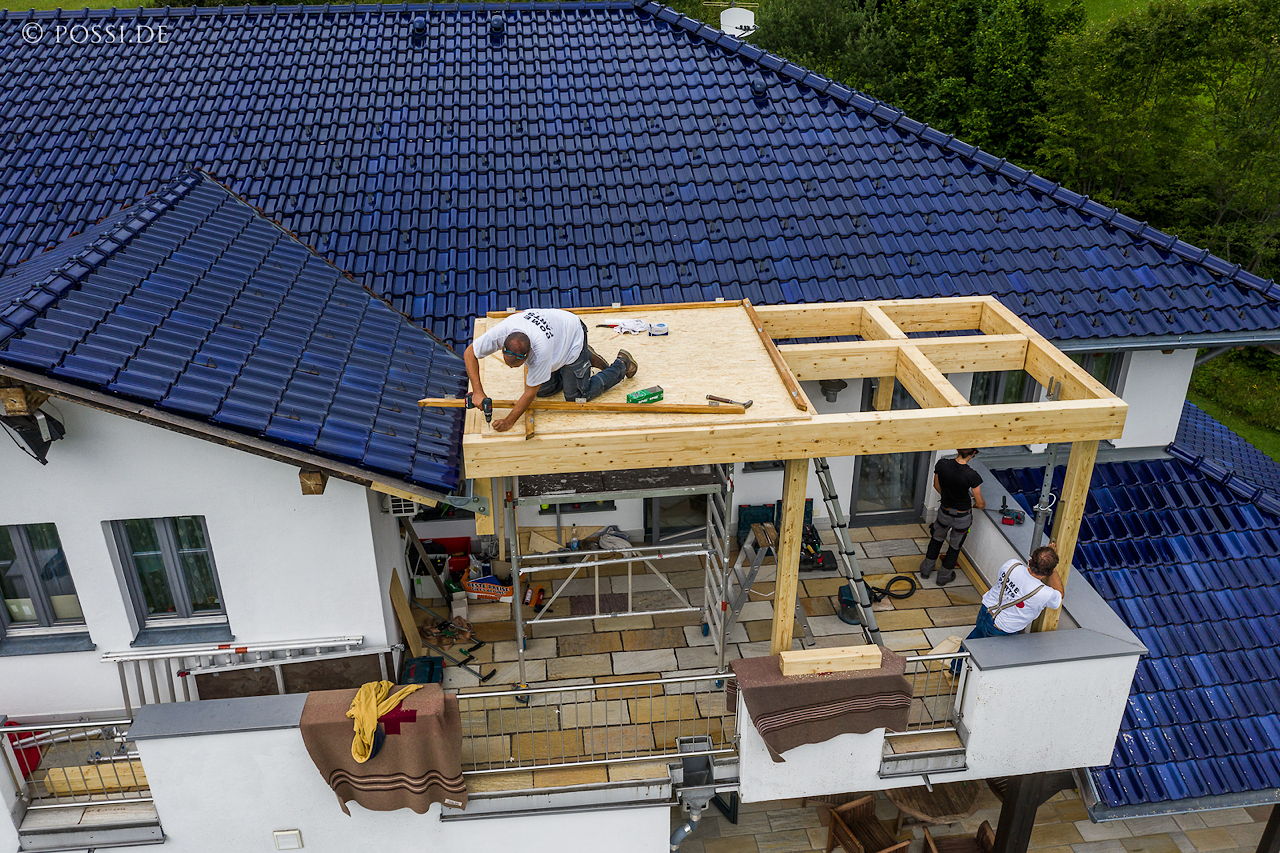 Auf der Hochterrasse wird zunächst eine 3,10 m hohe Plattform aus Leimbindern errichtet. A 3.10 m high platform made of glue beams will first be erected on the high terrace.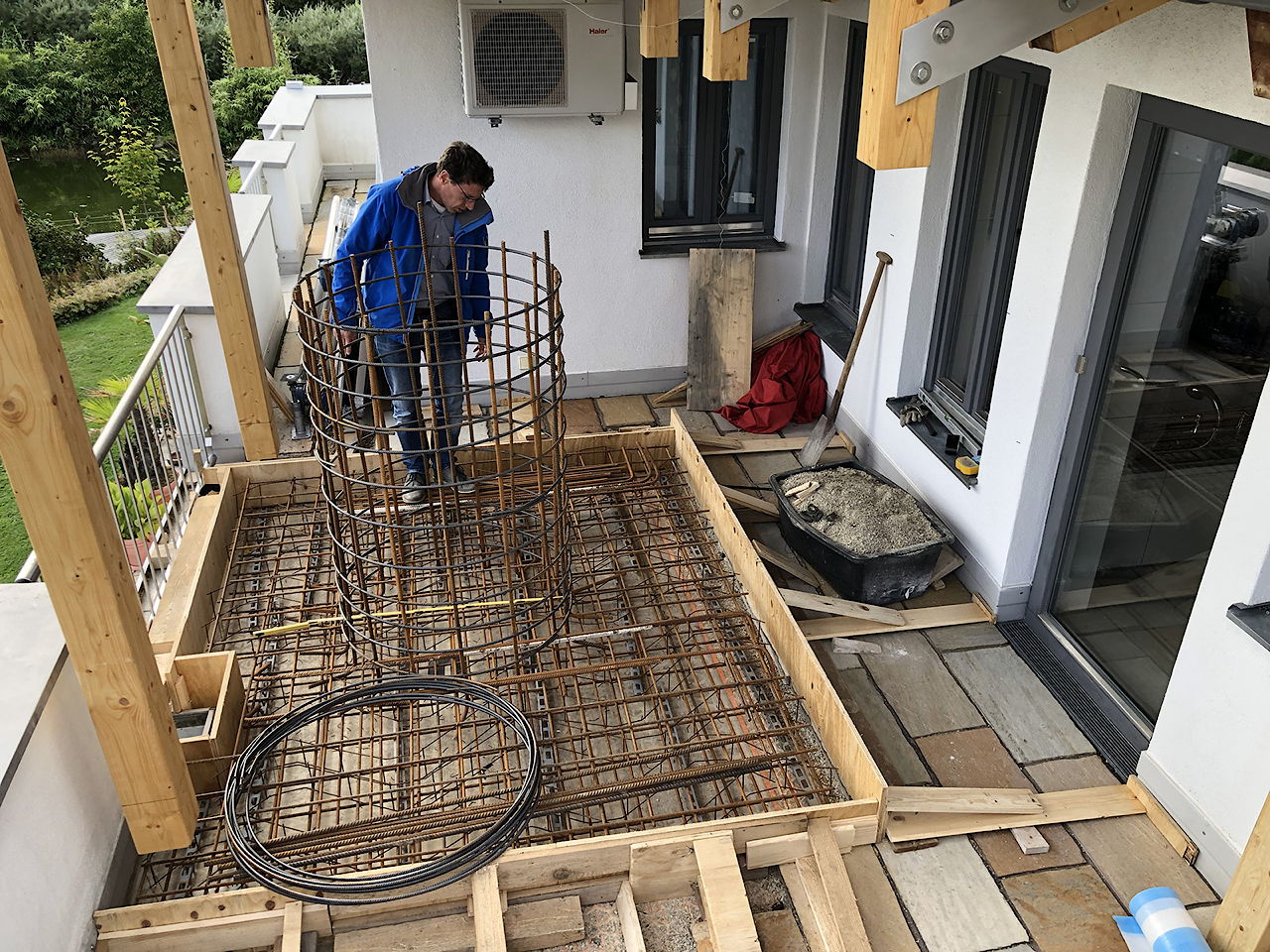 Die Freunde aus Russland biegen die Armierungseisen in Position. The friends from Russia bend the rebars into position.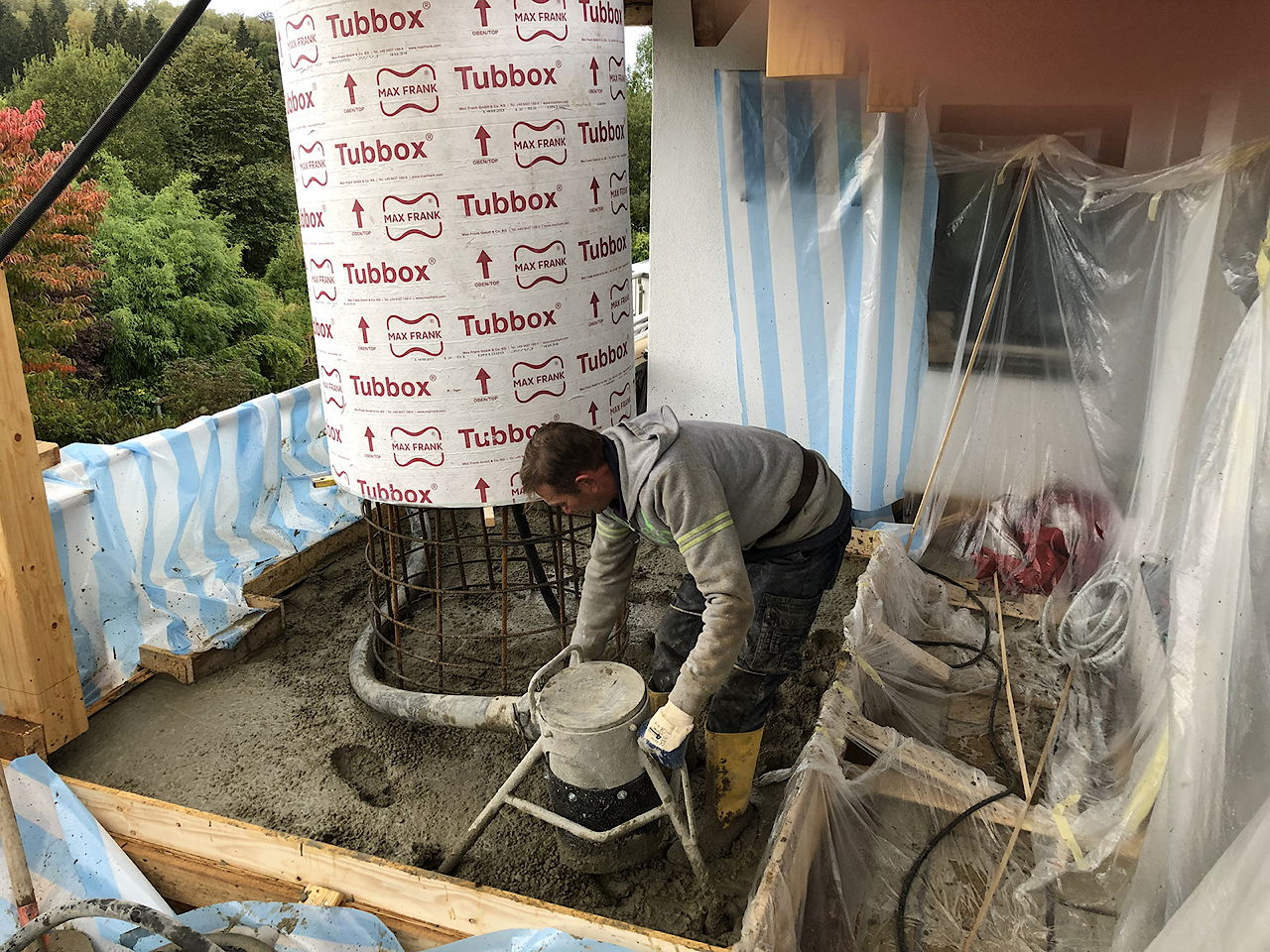 In zwei Etappen wird zuerst die Basisplatte und dann die ein Meter dicke Säule betoniert. In two stages, first the base slab, then the one meter thick column is concreted.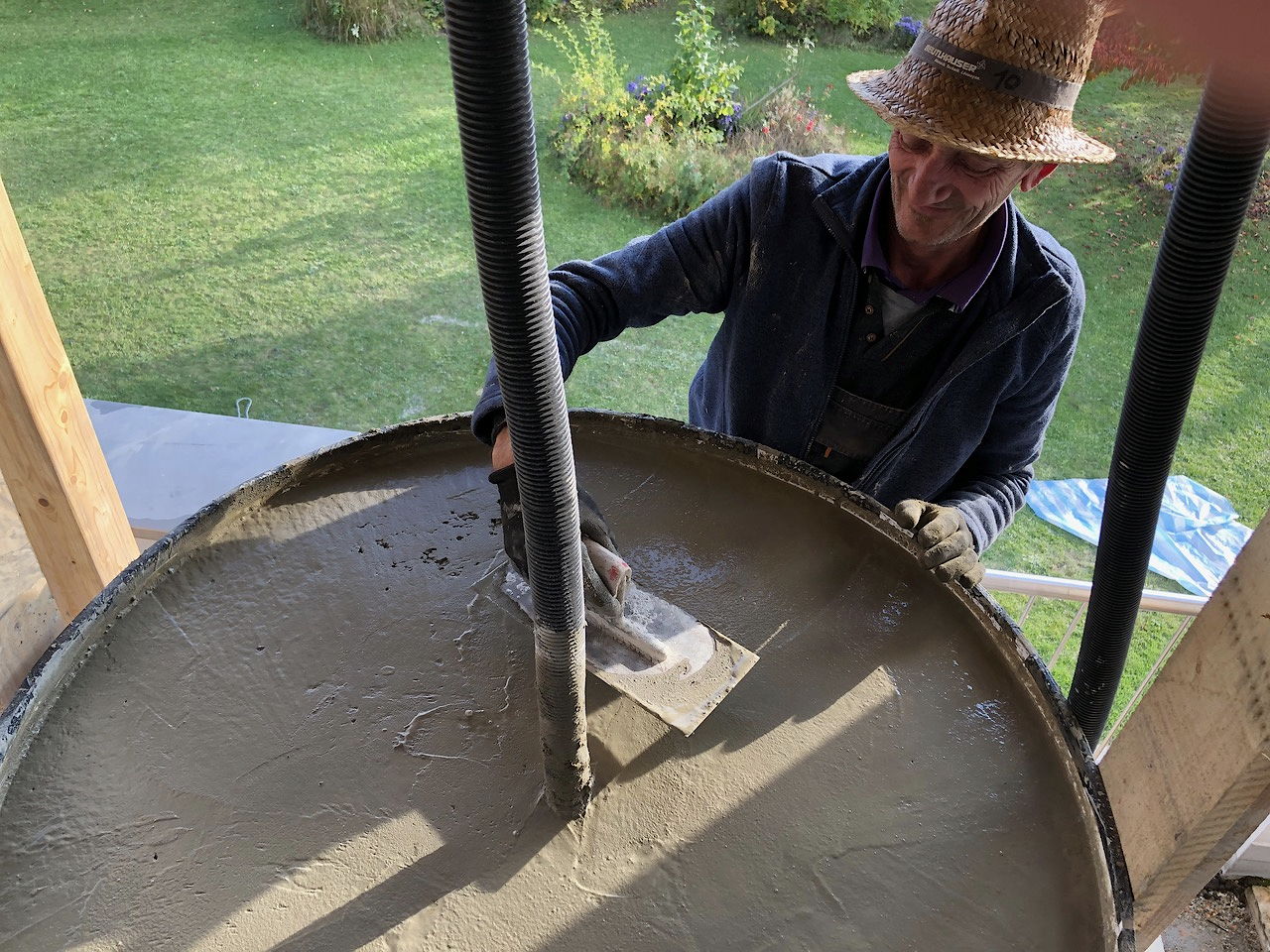 Letzter Glattstrich an der Oberkante des 1,6 m hohen Betonpfeilers. Last smooth coat on the upper edge of the 1.6m high concrete pier.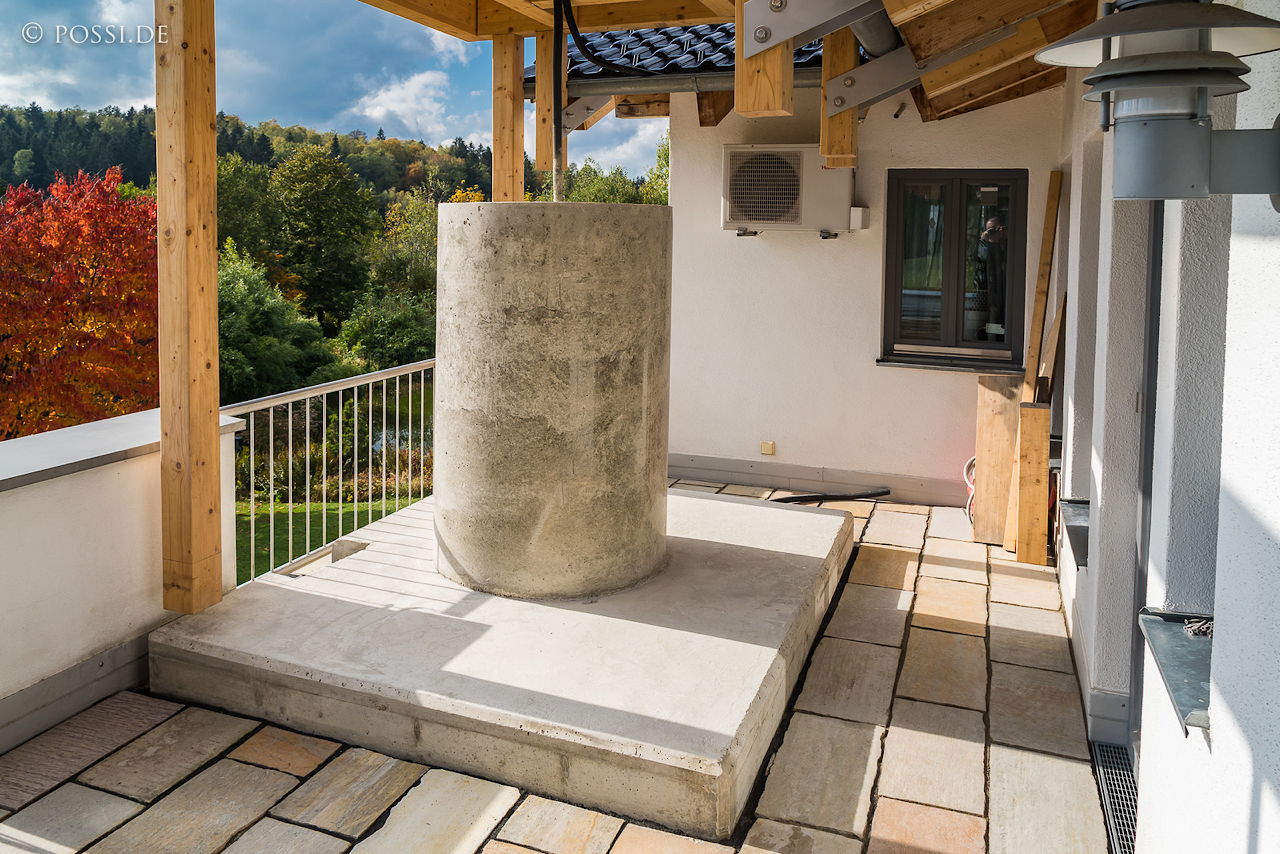 Fertig getrockneter Betonpfeiler mit 3x3m Grundplatte. Wie für eine Eisenbahnbrücke. Ready dried concrete pillar with 3x3m base plate. As for a railroad bridge.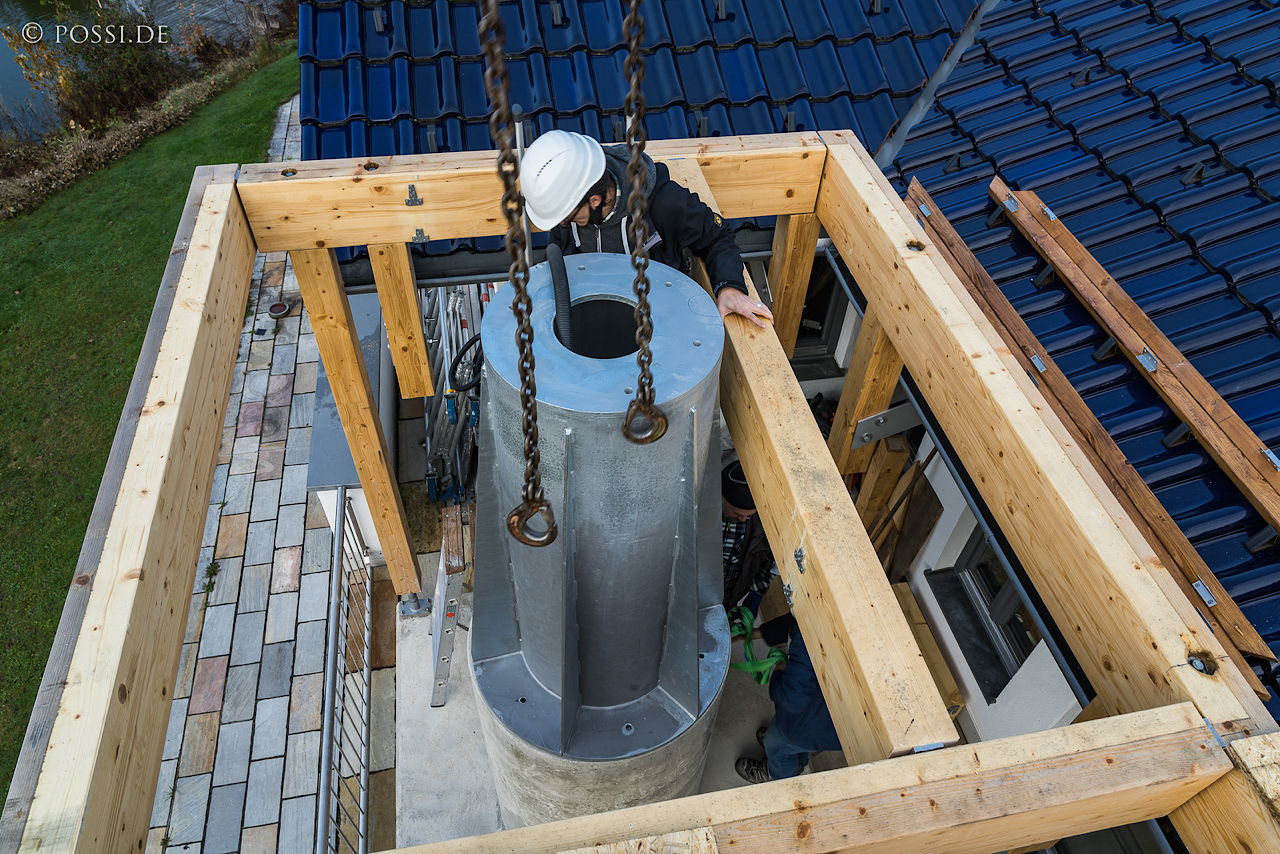 Die Stahlsäule kommt in zwei Teilen vom Autokran. Hier der verzinkte untere Kegel mit einem Basisdurchmesser von einem Meter. The steel column comes in two parts from the truck crane. Here is the galvanized lower cone with a base diameter of one meter.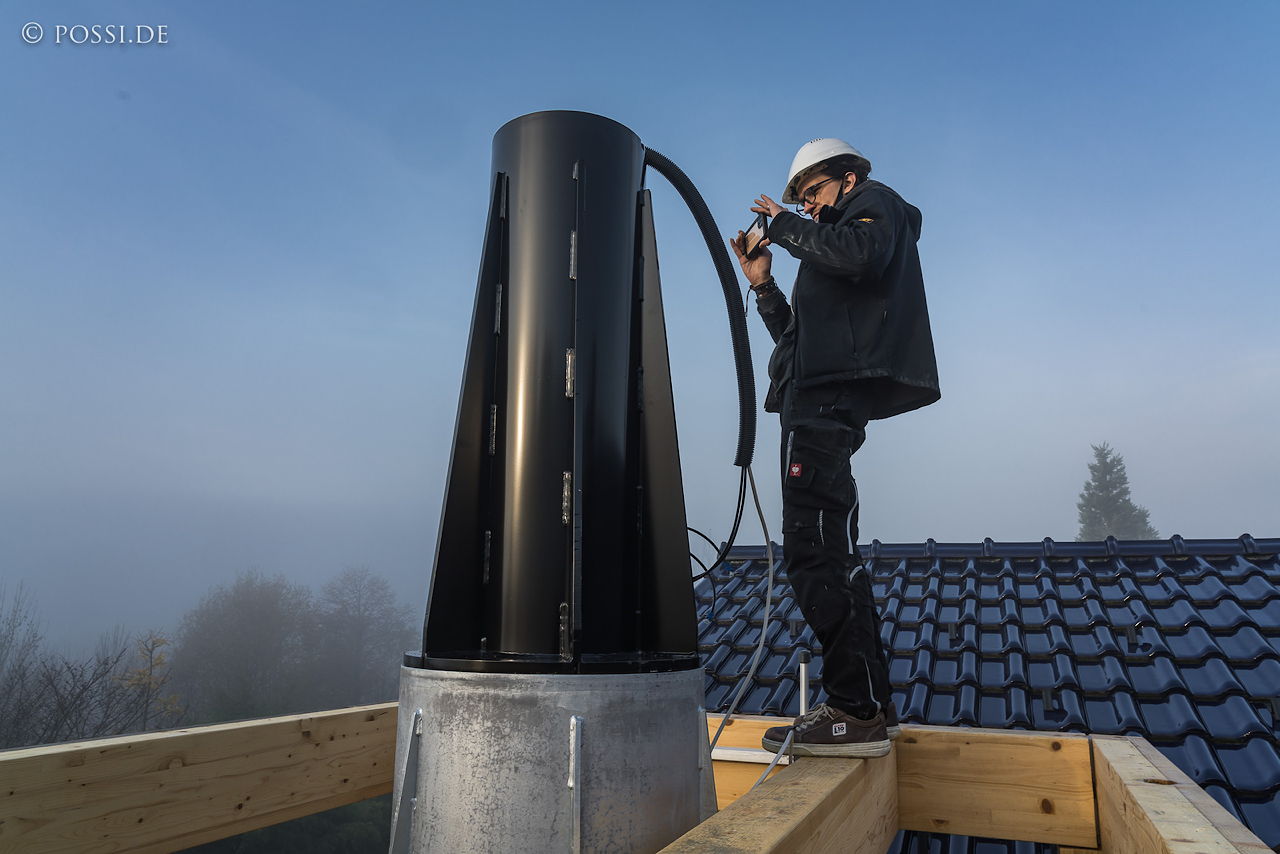 Obendrauf kommt der zweite Kegel mit 60cm Basisdurchmesser, schwarz pulverbeschichtet. Für punktgenaue Sterne muss er wirklich 100% stabil sein. On top comes the upper cone with 60cm base diameter, black powder coated. It really needs to be 100% stable for pin-point stars.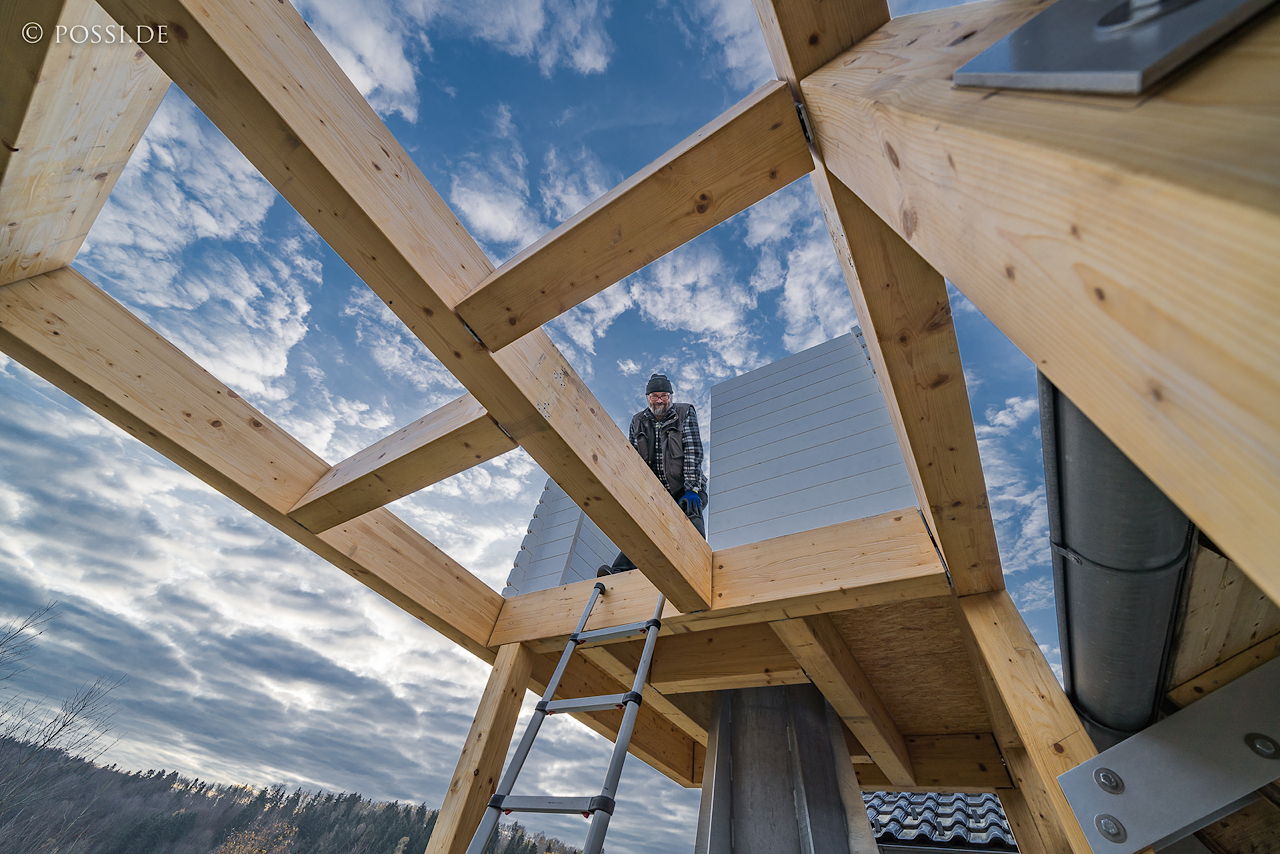 Nun kann die Montage der Sternwarte auf der Plattform beginnen. Die Basis sind doppelt genutete Holzpaneele, 44 mm dick. Now the assembly of the observatory on the platform can begin. The base is double grooved wooden panels, 44 mm thick.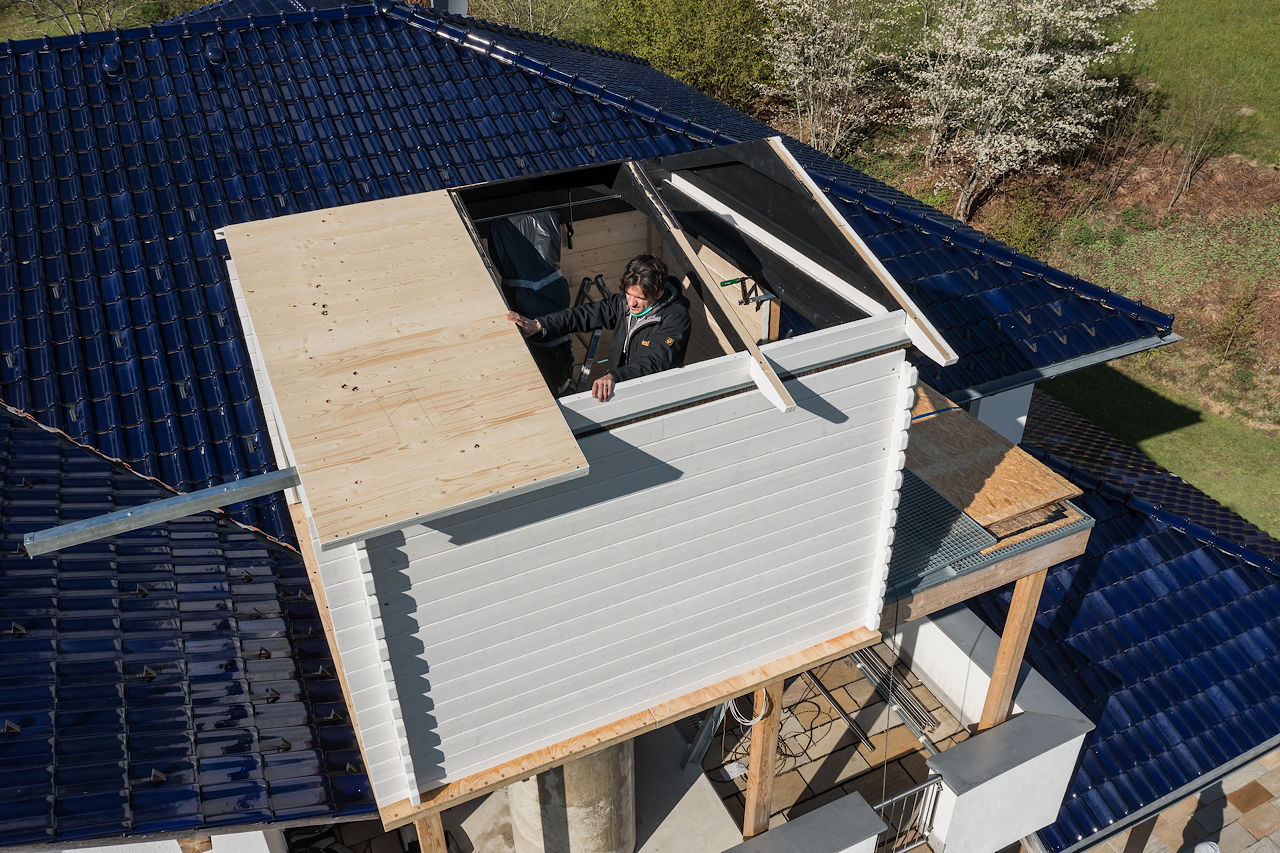 Fertigstellung der Konstruktion des Roll-off Daches. Finalizing the roll-off roof construction.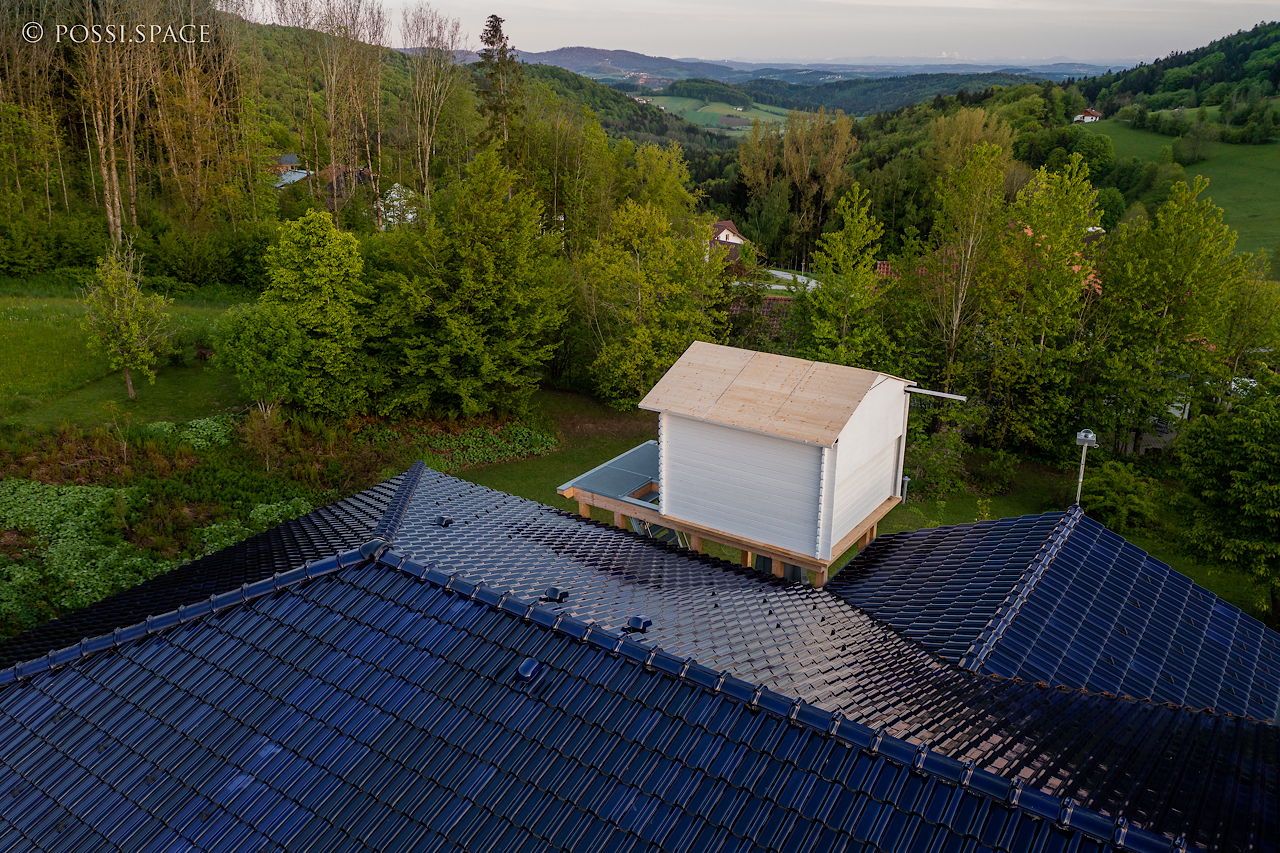 Fernblick nach Süden in Richtung Alpen (Drohnenfoto), das Observatorium ist fast fertig. Long distance view to the south towards the Alps (drone view), the observatory is almost finished.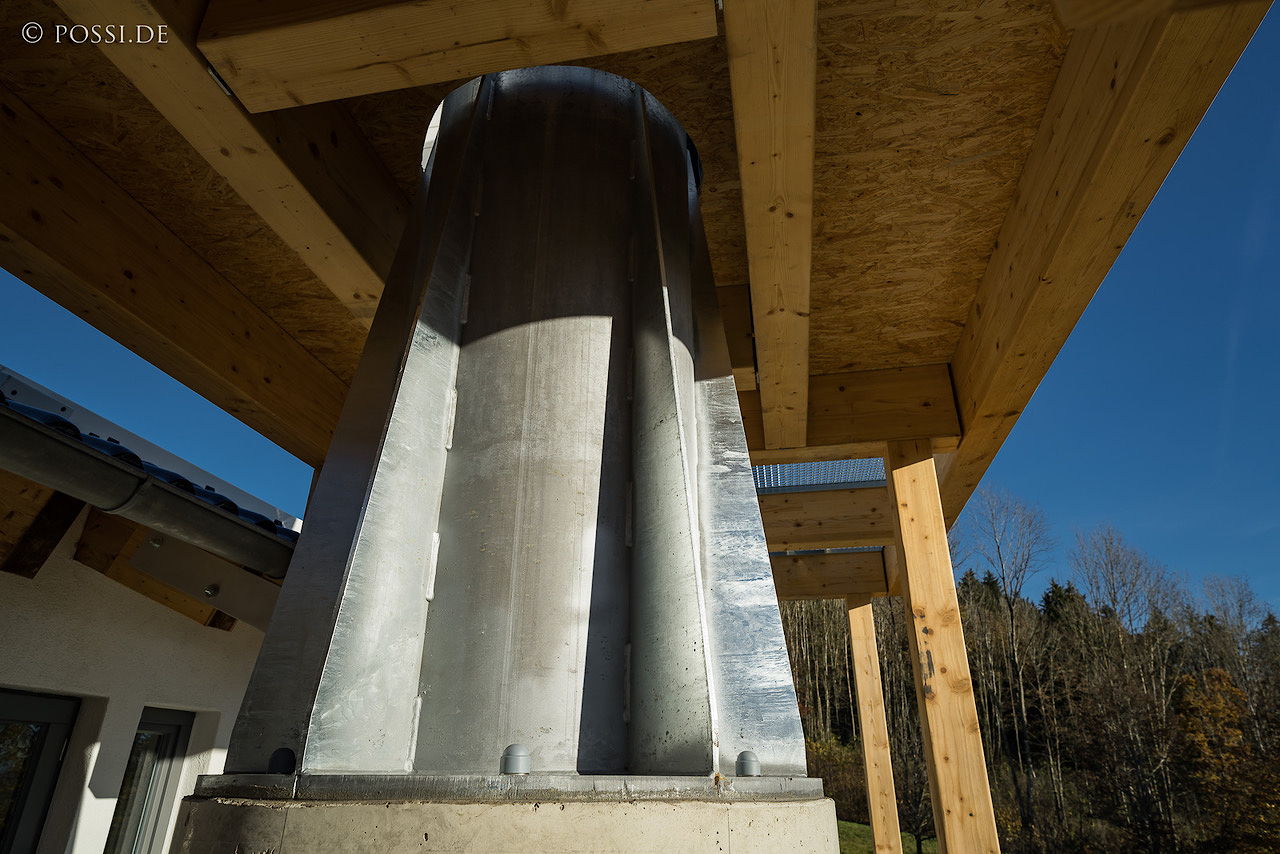 Die mächtige Säule hat an der Basis einen Durchmesser von einem Meter. Mit dem Betonsockel ist sie fast fünf Meter hoch. The mighty column has a diameter of one meter at the base. It is almost five meters high with the concrete base.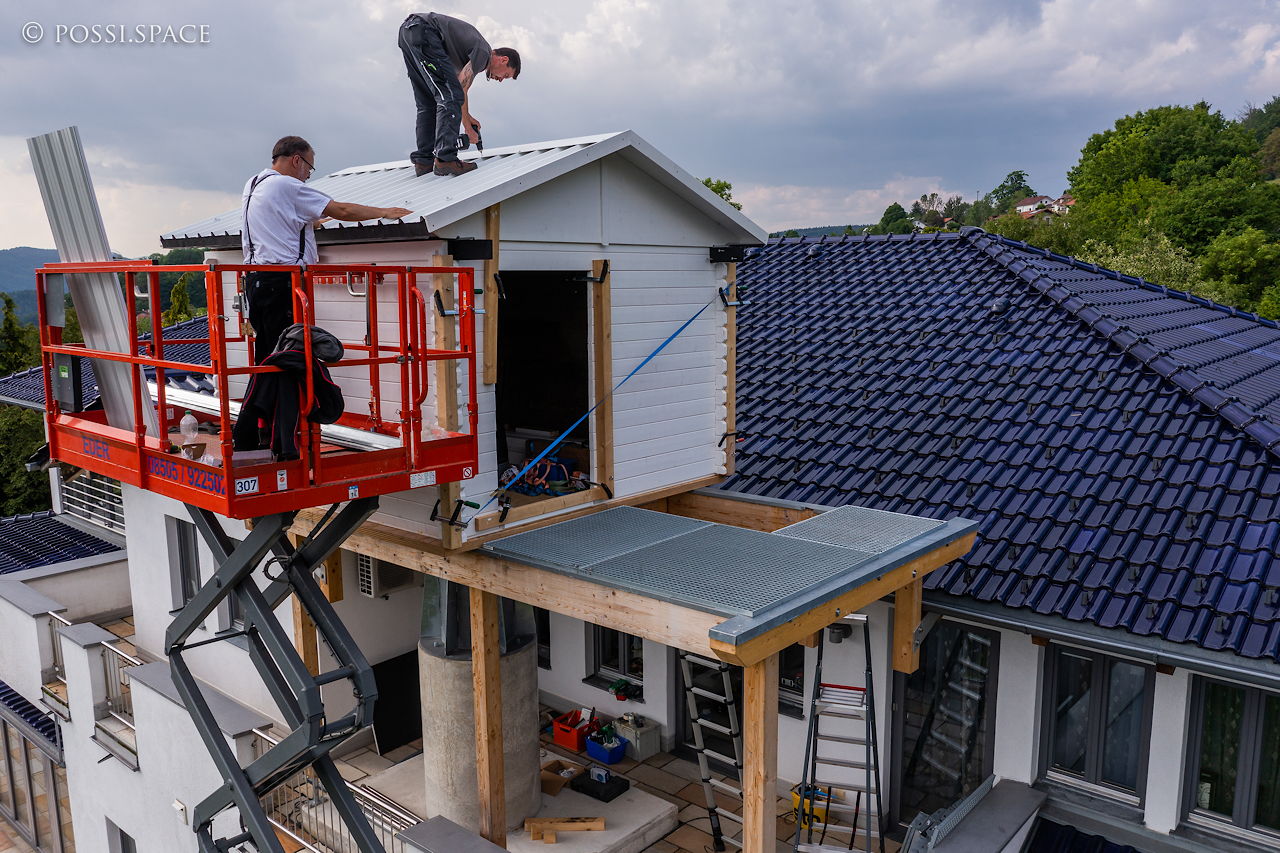 Die Verkleidung des Daches mit zusätzlichen Blechpaneelen macht die Anlage winterfest. The cladding of the roof with additional sheet metal panels makes the plant winterproof.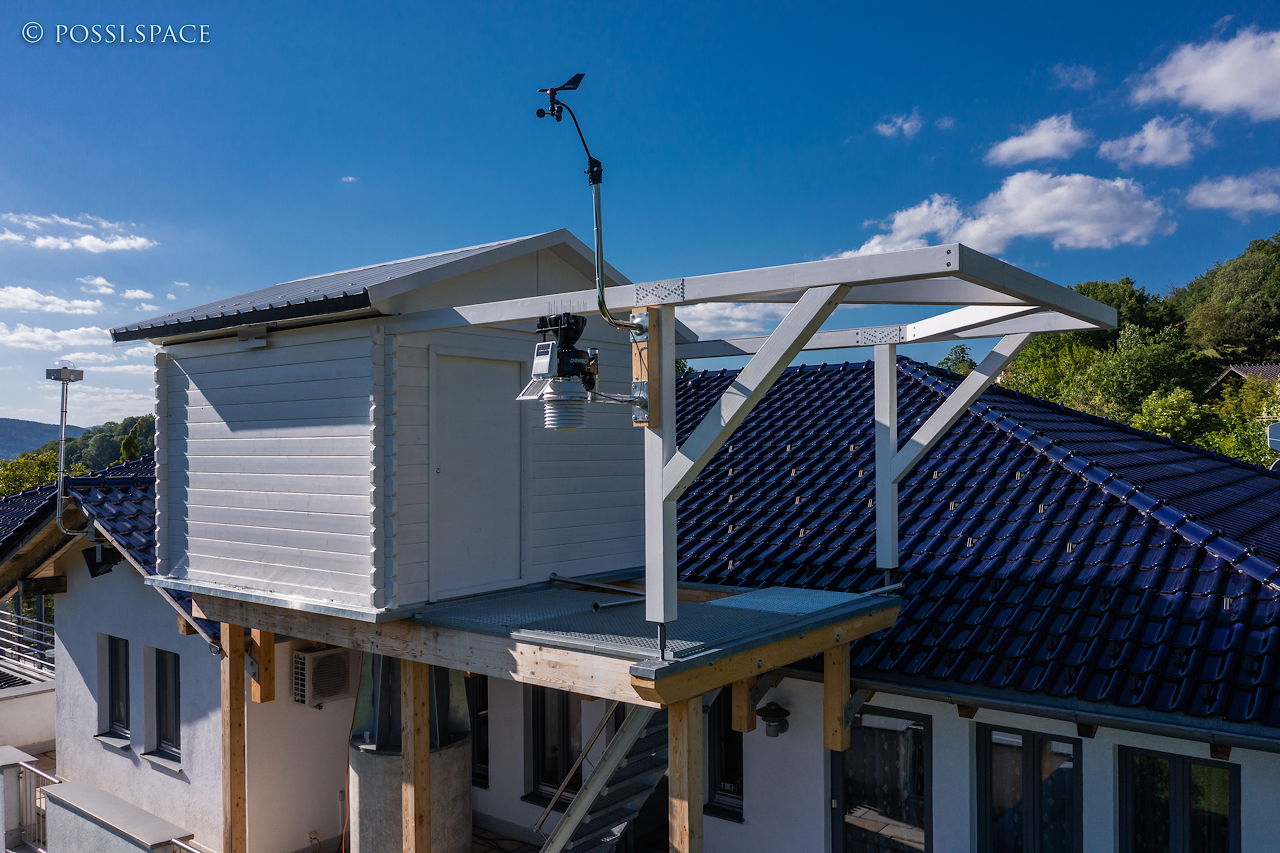 Bis auf das fehlende Geländer ist das Gebäude der Sternwarte nun fertiggestellt. Auch die Wetterstation ist provisorisch installiert worden. Except for the missing railings, the observatory building is now finalized. Provisionally, the weather station has also been installed.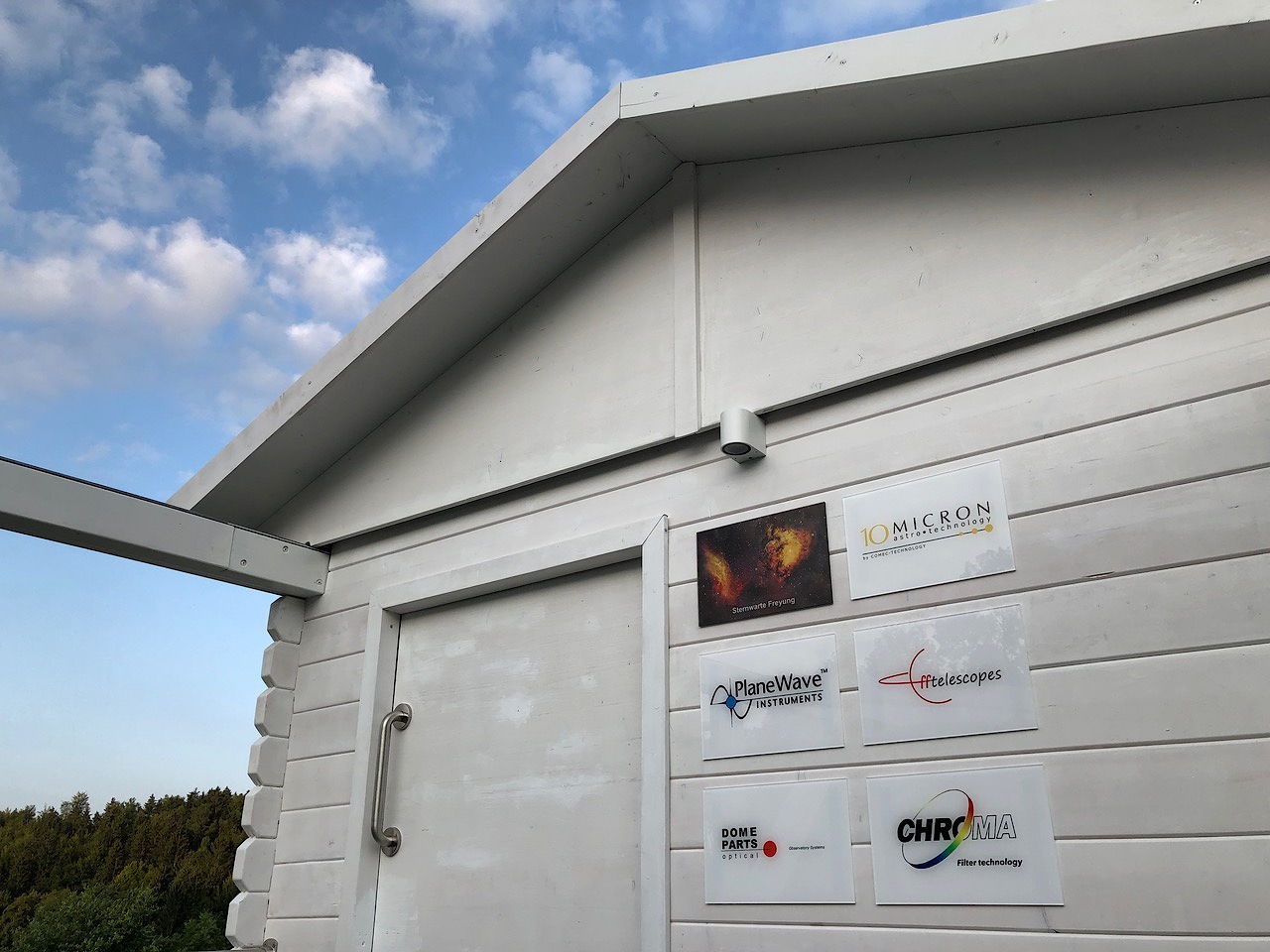 Der Eingang erfolgt hier durch eine magnetisch gesicherte Schiebetür. Die beteiligten Fachfirmen und Komponentenhersteller haben auf meinen Schildern Würdigungen erhalten. The entrance here is through a magnetically secured sliding door. The specialist companies and component manufacturers involved have received tributes on my signs.
---